It's like hearing yourself say, "I want to have as little trouble with the web as possible! I don't have texts or photos! And actually, I don't understand it at all. Help!"
Relax and have a coffee, that's what we are here for and we will do everything for you!
At the online meeting we will clarify
who you want to reach
website concept
pages and navigation
workflow
time schedule
We review your business
who the competitors are and how they communicate
what you are better at
what your customers or clients want to hear
Based on the previous steps, we design
texts and photos
structure and functionality of the website
homepage and sample page
After processing your feedback
we will complete the entire website
give you time to revise
process your final edits
Before we launch the site, we always perform
thorough testing of features and responsiveness
interconnection and security according to the chosen package
Finally, when the site is finished
we launch the website
we provide you with instructional videos for managing the website
Why do clients often approach us again?
What clients say about websites from us?
"The best value for money website I know. At Web do tydne, they make technically modern and visually elegant websites with content that professionally presents you or your company, your services, goods or work, prices and terms of business, in a marketing way that makes it easy for people to find and contact you."
Valerie Justová, marketing manager
"Our practice's new website from Web do tydne is perfectly tailored to display properly on your computer, tablet and smartphone."
Adam Jireš, MD
"Our website is finally "talking" to search engines and catalogues. The site is professional, but not pointlessly overcomplicated like the previous ones."
Hedvika W.
"Absolutely ideal for small and medium-sized businesses. Web pages from Web do tydne will be used by a craftsman, service provider, lawyer, doctor, veterinarian, accountant, photographer, blogger, but also a manufacturing or trading company, restaurant and cafe, shop, kindergarten or school, pharmacy..."
Martin Peters, www.kocicipani.cz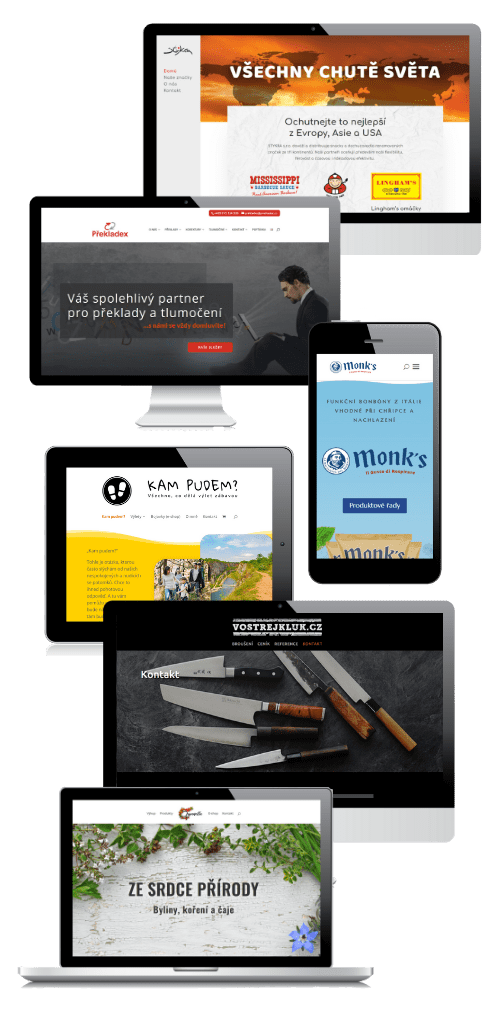 We will create a great new website for you.
Contact us today!
RiverSong s.r.o.
Budějovická 820/42, 140 00 Praha 4
ID: 03780937    VAT ID: CZ03780937
We are a registered Family Business of the Czech Republic.
This site uses only functional cookies. We do not use other types of cookies (marketing, analytical, preference).